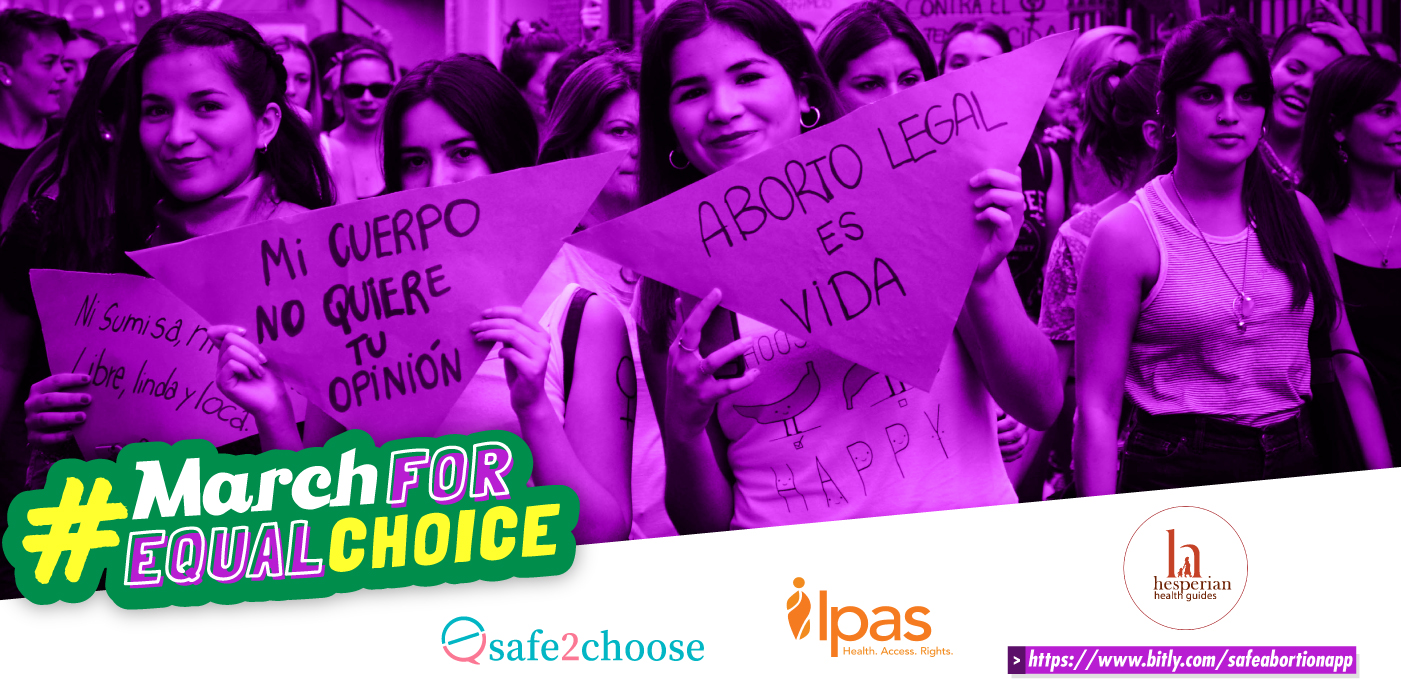 safe2choose Team
The #MarchForEqualChoice campaign brings together organisations around the 8th of March to advocate for access to safe abortion services and information for all
safe2choose, Hesperian and Ipas joined forces to conduct this year's International Women's Day Campaign dubbed #MarchForEqualChoice. The campaign will run from March 1 to March 9 2020.
Inspired by the 2020 theme of the International Women's Day #EachForEqual, the #MarchForEqualChoice campaign aims to raise awareness on the need for women and girls all over the world to have access to abortion information and services regardless of race, economic status, location, language or any other social barrier. The campaign will also look at the efforts made towards reaching gender equality and the lessons abortion rights advocates can learn from the women rights movement.
March For Equal Choice Campaign Format
The campaign will be in the form of daily posts shared concurrently on Ipas, Hesperian and safe2choose social media accounts under the hashtag #MarchForEqualChoice. There will also be a twitter chat held on March 6 from 5pm – 7pm EAT. The twitter chat will be in the form of a panel discussion with two hosts and five panelists. @safe2choose will co-moderate the chat with @hesperian. Panelists for the chat are @safe_abortion, @wgnrr, @yanaanetwork, @abobobravado and @ipasorg.
Several partners have also joined the campaign to show their support. These include International Campaign for Women's Right to Safe Abortion, Women's Global Network for Reproductive Rights, 2+ Abortions WorldWide, Young Activist Network for Abortion Advocacy, Trust for Indigenous Culture and Health (TICAH), Love Matters Africa, Zamara Foundation, Rural to Global Foundation, SheDecides Kenya and Reproductive Health Network Kenya.
"safe2choose makes sure to always be at the forefront of important dates such as the International Women's Day by leading innovative collaborative projects with old and new partners. Aligning our message with a group of established prochoice stakeholders is essential in creating awareness, building credibility, and ensuring that the abortion rights discussion is on the table" says safe2choose manager, Pauline.
International Women's Day and #MarchForEqualChoice
International Women's Day takes place on March 8 every year to celebrate women's rights and inspire people to act in the ongoing fight for gender equality. 2020 is a pivotal year for advancing gender equality worldwide as the global community takes stock of progress made for women's rights since the adoption of the Beijing Platform for Action.
It will also mark several other galvanizing moments in the gender equality movement: a five-year milestone towards achieving the Sustainable Development Goals, and the 20th anniversary of UN Security Council resolution 1325 on women, peace and security.
As the world comes together to assess these important milestones, safe2choose, Hesperian and Ipas will use the two weeks of #MarchForEqualChoice to look at historical advancements made in the women's rights movement and the impact it has had on safe abortion provision and access.
How to participate in the #MarchForEqualChoice Campaign
You too can join the campaign in the following ways:
Follow us on social media @safe2choose, @safeabortionapp and @ipasorg.
Follow the conversation all week on social media, tag and retweet/share all content with the #MarchForEqualChoice hashtag.
Join us on Friday 6th March from 9 a.m. EST/5 p.m EAT/ 2pm GMT for the #MarchForEqualChoice Twitter Chat.
Let's make March a month for safe abortion advocacy. Join us as we #MarchForEqualChoice!
About The Organisers
safe2choose is an online counseling and informational platform that supports women who want to have an abortion with pills, and when needed, refers them to trusted, trained and pro-choice healthcare providers.
Hesperian Health Guides is a nonprofit health information and health education source that supports individuals and communities in their struggles to realize the right to health. Hesperian has developed a free safe abortion app that has been verified by experts in 18 countries and is available to use offline without a data plan.
Ipas is an international reproductive health rights organization focused on expanding access to safe abortion and contraceptive care. Ipas works with partners across Africa, Asia and Latin America to train abortion providers, connect women with vital information so they can access services, and to advocate for safe, legal abortion.