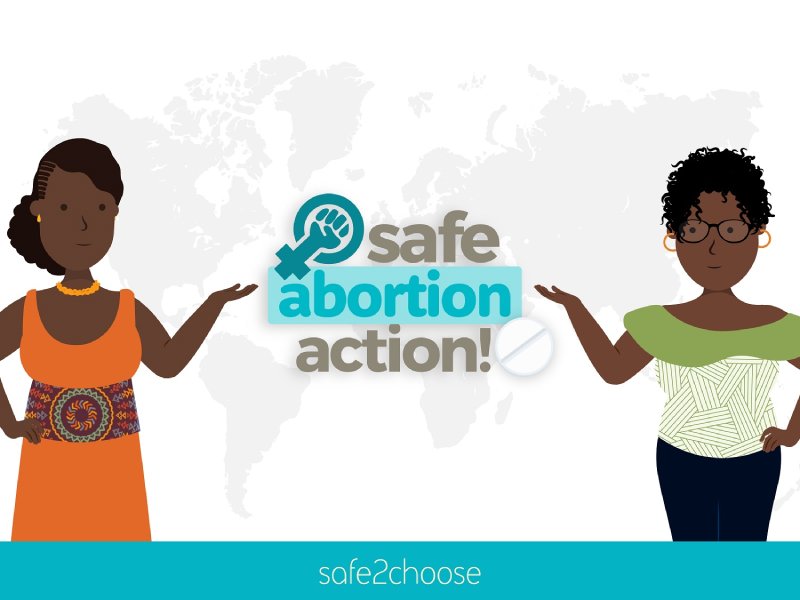 In honor of the International Safe Abortion Day, we've invited several organizations to answer this simple question:
Why must safe abortion be available to all women worldwide?
Read their different responses along with special artwork created by safe2choose. Each response is shown in their respective language:
Ipas México:
La Revuelta, Colectiva Feminista:
Porque es incondicional para ser dueñas de nuestro primer territorio: Nuestros cuerpos. Porque somos fuerza, lucha, grito, recuerdo y lenguaje de, con y en otras mujeres. Y es esto lo que nos conmueve y nos une en distancias y tiempos. Porque nos acuerpamos en complicidades y gestos de cuidados.
Porque es tejiendo comunidad que necesariamente decidimos hilar nuestros abortos libres, cuidados y seguros. Porque exigimos que nos vean, que nos escuchen y que respeten nuestros cuerpos y nuestras decisiones. Porque las pasiones y el temblor que nos genera la palabra aborto, nos dispone a defender la vida. Porque lo deseamos.
Porque abortar es un acontecimiento que puede dar lugar a otra política de vínculos, afectos y placeres. Porque lo hicimos desde tiempos ancestrales, porque lo hacemos y porque lo seguiremos haciendo.
FOHA (Fortress of Hope Africa):
It should be available to women because all women should be allowed to have safe abortion this will make the women be able to make their own decisions whether and when to have children and they will be able to have access to the means of acting on those decisions without risk to their health and lives.
No woman's health should be placed at risk because safe abortion services are not available to her.
Reseau d'Action et d'Information Pour Les Femmes (RAIF):
L'avortement securisé doit être disponible à toute les femmes du monde parce qu'en premier lieu c'est un droit en plus ça permet à la femme de decider sur sa santé sans recourir aux interventions qui auraient beaucoup de risques pour leur vies.
Fundación Cultura de Mujer:
Todas las mujeres en el mundo se han practicado abortos a través de la historia, las mujeres lo han hecho de diferentes maneras, formas seguras e inseguras. Si el aborto seguro no está disponible no se disminuye el número de abortos, pero sí aumenta la cantidad de mujeres que mueren por abortos mal practicados.
El debate ahora no es si es correcto o no, se trata de que el aborto existe a pesar de todas las limitaciones políticas, legales, sociales, culturales que aún existen en muchos países, y es un deber de nuestra sociedad tomar acciones para que las mujeres no mueran por esta causa evitable. ¡Hacer disponible el aborto seguro salvará diariamente la vida de muchas mujeres en el mundo!
Fem:
Safe abortion is an integral part of Sexual and Reproductive Health Rights. Rights are about human dignity and therefore safe abortion is important because human dignity is important, these two things can not be separated.
Abortion is a respectable choice all women have right to make.
Women's Promotion Centre:
There are a number of women and girls who die day to day. For example, in our ambit there are women and girls who get pregnant unwillingly either through rape or other ways and would like to abort, but they are afraid of the stigma and criminalization.
As a result, they have unsafe abortions and lose their lives while through a safe abortion they could save their lives.
How to use abortion pill:
It's her body. It's her choice.
SOS Femme, Enfant en Catastrophe (SOSFEC), República Democrática do Congo:
Les femmes dans les monde souffre d'une sorte de guerre froide: les violences sexuelles, les incestes, les grossesses non désirés, l'access restreint au planning familiale…
A. Parce que cela est très important que les femmes aillent les informations sur leur santé et qu'elles peuvent utiliser lors qu'elles en ont besoin.
B. Toutes les grossesses ne sont pas désirées.
C. Pour la réduction des décès causé par les avortements à risques.
D. Comme chez nous la femme est considérer comme une machine à production, quand elle connait le Protocol de certain produit comme le Misoprostol elle sera capable de lutter seul car eux-mêmes sont devenues (papa et maman dans le foyer).
M de Mujer:
Cada mujer es una historia muy particular, y cada una es capaz de saber qué es lo mejor para sí misma; por lo tanto, merecemos que nuestra decisión sea respetada y también respaldada con servicios de aborto seguro accesibles.
El aborto ha sido una realidad desde tiempos inmemoriales y hemos elegido contribuir a que esta realidad no tenga consecuencias negativas para las mujeres alrededor del mundo, sino todo lo contrario, que sea parte del libre ejercicio de nuestros derechos sexuales y reproductivos.
Women's Global Network for Reproductive Rights (WGNRR):
Ensuring universal access to safe abortion is a fundamental human right, which intersects with and is integral to realizing social, economic and reproductive justice. When individuals are able to access safe abortion, along with comprehensive sexuality education and a range of contraceptives, the social good outcomes are numerous – including plummeting maternal mortality and morbidity, and significantly reduced rates of STIs and teenage pregnancy.
Other positive ripple effects include an increase in women and girls' ability to continue education; increased gender equity and women's empowerment; and reduced intergenerational transfers of poverty, among many other integral benefits.
As such, this September 28 we'll be resisting rollbacks and restrictions on abortion via collective & individual action, and calling on governments, policy makers, and the global community to recognize access to safe and legal abortion for what it is: a necessary social good and a human right! #IResistWePersist"
International Campaign for Women's Right to Safe Abortion:
safe2choose:
You can find and share your favorites on Facebook, Twitter and Instagram!
Visit our Facebook in English.
Visit our Facebook in Spanish.
Visit our Facebook in French.
Visit our Facebook in Portuguese.
On International Safe Abortion Day, "we learned how to love ourselves"