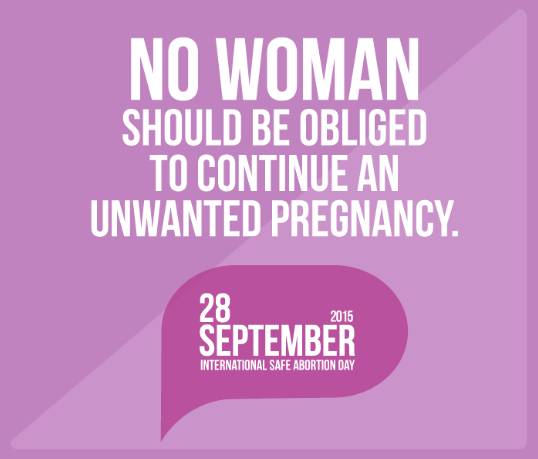 Today, September 28th, marks the Global Day of Action for Access to Safe and Legal Abortion. This day has been celebrated since 1990, but we are still far from awareness around this issue. According to the WHO (World Health Organization), on average, 211 million women become pregnant every year, and 87 million of them had no intention to have a child yet. Among them, 46 million preferred to end their unwanted pregnancies. Of these, about 22 million unfortunately opted (for lack of safer options) for an unsafe method, which is the cause of 47,000 deaths annually.
Abortion is not a matter of opinion. The legalization of abortion is not an issue of belief, taboo or religion. Rather, abortion is a public health issue and it should be treated this way.
If you are opposed to abortions, you are given the choice to not have one. However, your personal beliefs should not hinder the autonomy and rights to choose for other women. Every day, women from all walks of life choose to have an abortion – mothers, teenagers, and religious women; employed and unemployed women, married and single women, and women from all socioeconomic classes. The opinion of others will not change the decision of these women. The only difference is whether they will be entitled to a safe or an unsafe abortion.
Each year, 47,000 women die as a result of an unsafe abortion, and 8 million others suffer irreversible physical complications and emotional traumas. In recent years, however, we have seen that countries that have legalized abortion celebrate significantly lower mortality rates. Uruguay, for example, legalized abortion in 2012 and reports that, since then, no unsafe abortions have been administered. The legalization of abortion means that safe abortion is no longer a question open to debate. Rather, it is the right of choice that is respected above anything else.
Europeans are far more advanced in this matter. As far as laws are concerned, Italy allows the procedure within the first 24 weeks of gestation; Sweden allows abortion up to 18 weeks and Portugal up to 10 weeks. In these countries, abortions take place every day, and they are performed using standards to ensure safety.
The African continent still has long way to go, but some recent changes to legislation are already making a difference. In South Africa, abortion was legalized in 1996, and the procedure is free for women that are unable to afford it. The South African Constitution recognizes the right to choose in matters concerning women's reproductive rights and security, as well as control over their own body. Since the fall of Apartheid, abortion has become legal in specialized centers linked to the Department of Health and also in accredited private hospitals up to the 20th week. Additionally, Mozambique recently decriminalized abortion, joining a select group of countries (Cape Verde, South Africa, Tunisia, and Zambia) that recognize and respect the reproductive rights of women.
In sharp contrast, Latin America holds some of the strictest abortion laws in the world. While Mexicans promote a healthy debate across Latin America and abortion is well established in Mexico City (up to 12 weeks), it is still banned in 18 of the 31 state constitutions. Furthermore, in El Salvador, Guatemala, Nicaragua and Honduras, abortion is not even allowed to save a woman's life.
Regardless of a country's legal status, women will always have abortions. For this reason, institutions like safe2choose.org promote the debate around this issue both in countries where the procedure is legalized and where it is not. Today, this social enterprise supports women all over the world with convenient and private access to information and counselling on how to have a safe abortion using pills until the 10th week of pregnancy. safe2choose, which recently launched in more than 100 countries, is part of a non-profit international network whose mission is to provide quality and affordable medicines for safe abortion, always with a prescription and support from qualified health professionals.
Another institution that also makes this choice possible is howtouseabortionpill.org, an international website which includes information about medical abortion pills and a step-by-step guide on how to have a home-based abortion with pills safely, translated into 15 different languages. Unlike safe2choose.org that facilitates access to the medicines after an online consultation, howtouseabortionpill.org only provides reliable information about medical abortion and directs interested women to safe2choose, which very soon will have the website translated into Portuguese, Hindi, French and Arabic, in addition to the already existing English, Spanish and Polish translations.
This discussion is and should be shaped around the health, lives and rights of all women. It is for this reason that we support legal and safe abortion!
We've done our part, now do yours and spread the word; let your friends know that it is possible to access a safe abortion.
safe2choose team
safe2choose.org | Facebook | Twitter | YouTube
Additional resources: